The Fuhrmann
s in the United States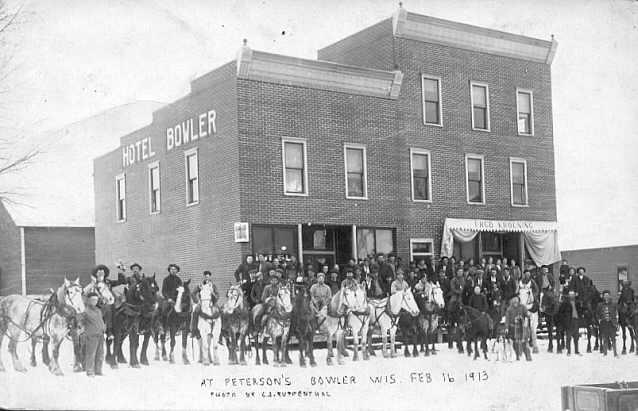 Fuhrmann and Peterson relatives in front of the Bowler Hotel owned by Peterson, a relative to the Fuhrmann's
Many of the Descendants of a Fuhrmann Ancestor, who traces back to the pharmacist Johann George Fuhrmann from Birnbaum (today Miedzychod, Poland) live in the United States of America. Today live more Fuhrmann-descendants in the USA then in Europe, so
I have 3 or more living generations of Johann Paul Wilhelm Fuhrmann & his 2 wives-Maria Bertha Diestler & Ernestina Pauline Affeldt descendants in my database not shown on the web pages to keep their privacy.
I am always looking for additional information on his Descendants/ Ancestors & from any other Descendants/ Ancestors of Johann Georg Fuhrmann of Birnbaum, Poznan.
If any relatives of this Fuhrmann-descendants, unknown to me, who visit this homepage, would contact me at GuentherFuhrmann@gmx.net, I would deeply appreciate it.
This line I will describe and illustrate with the informations I have, tracing back to the first Fuhrmann-notes of our line we have in 1460.
All copyrights for any publication also in the Internet by GŁnther and Felix Fuhrmann Contact: GuentherFuhrmann@gmx.net ; felixfuhrmann@web.de